JAIIB Exam 2022 Postponed
JAIIB Exam 2022 Postponed: The officials of the Indian Institute of Banking and Finance have released an official notice on its official site @iibf.org.in about the postponement of the JAIIB-2022 exam ( flagship course) which was going to be held in January.  JAIIB/DB&F/SOB which was scheduled to be held on the 8th, 9th and 22nd of January 2022 now has been postponed due to the rapid increase in the number of Covid cases in the last few days, and the restrictions imposed by various States/UTs. The organization has taken this step in order to curtail the outbreak in the country.
JAIIB 2022 New Exam Dates Out- Click to Check
JAIIB Exam 2022 Postposed
Candidates are advised to stay tuned to know the revised JAIIB-2022 Exam Dates. The official notice released by IIBF is being provided in the article below for the postponement of the JAIIB 2022 January exam. The revised dates will be informed as soon as it will be released on the official website.
NOTE: Other dates for JAIIB/DB&F/SOB and CAIIB/CAIIB Elective exams remain unchanged.
| | | | |
| --- | --- | --- | --- |
| Exam | Subject | Scheduled Exam Date | Remark |
| JAIIB/DB&F/SOB | Principles & Practices of Banking | 8th January 2022 | Postponed |
| JAIIB/DB&F | Accounting & Finance for Bankers | 9th January 2022 | Postponed |
| | Legal and Regulatory Aspects of Banking | 22nd January 2022 | Postponed |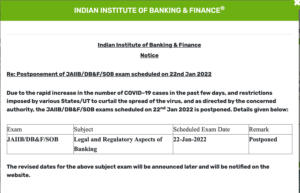 JAIIB-2022 Exam Postponed: Official PDF