ESIC UDC Syllabus 2021
ESIC UDC Syllabus 2021: Employees' State Insurance Corporation (ESIC) will be recruiting eligible candidates for 6306 UDC posts as per the notice. The ESIC has not yet started online registration but candidates interested in the post must start preparing along with the exam pattern and syllabus to score good marks in the exam. On this page, we have provided the detailed exam pattern for all the stages of written examination to be conducted for the selection of eligible candidates for the Upper Division Clerk/Clerk-Cashier posts. The ESIC Exam Pattern and Syllabus provided is here as per the previous year notification. Stay tuned we will update if there is any change in the exam pattern once the official notification is released.
ESIC UDC Syllabus 2021: Overview
ESIC UDC Syllabus 2021 
Organization 
Employees' State Insurance Corporation (ESIC)
Post Name
Upper Division Clerk or Clerk-Cashier
Total Vacancies
6306
Exam Date
Yet to be announced  
Post Category
Syllabus & Exam Pattern
Examination Mode
Online
Job Category
Govt Jobs
Job Location
Across India
Official Site
esic.nic.in
ESIC UDC 2021: Selection Process
The selection of the eligible candidates for the post of UDC will be done through the following parameters:
75% by direct recruitment by written examination.
15% by promotion on the basis of seniority cum fitness.
10% by Limited Departmental Competitive Examination
ESIC UDC Syllabus 2021: Exam Pattern
ESIC will be soon starting the online registration process for ESIC UDC 2021 and the interested candidates can start applying for 5306 Upper Division Clerk posts on Official website of ESIC once registration starts. However, it is expected that the exam pattern and syllabus will remain the same as that of the previous year. Read the full article to get details about ESIC UDC Exam Pattern and Syllabus 2021.
The written examination for testing the eligibility of the candidates will be conducted in 3 stages: Prelims, Mains, and Computer Skill Test. The candidate has to qualify in all three stages to getting qualified for further selection criteria. Here is the exam pattern for all three stages as per the previous year notification. Any changes in the exam pattern will be updated here.
Phase-1 Prelims Exam
S. No.
Name of the Test (ObjectiveTests)
No. of Questions
Max. Marks
Duration
1
General Intelligence and Reasoning
25
50
1 hour

(60 minutes)

2
General Awareness
25
50
3
Quantitative Aptitude
25
50
4
English Comprehension
25
50
Total
100
200

Phase-2 Mains Exam
S. No.
Name of the Test (Objective Tests)
No. of questions.
Max.Marks
Duration
1
General Intelligence and Reasoning
50
50
 2 hours
2
General Awareness
50
50
3
Quantitative Aptitude
50
50
4
English Comprehension
50
50
Total
200
200
Phase-3 Computer Skill Test
S.No.
Description of Test
Marks
TotalMarks
Duration
1
Preparation of 02 PowerPoints Slides
10
50 marks
30 minutes
2
Typing matter on MS Word with formatting
20
3
Preparation of Table on MS Excel with use of formulae
20
ESIC UDC Syllabus 2021
Here we have provided the section-wise syllabus for ESIC UDC Written Examination 2021. Check the topics which will be covered for the exam and start preparing now. Any change in the syllabus will be notified here.
ESIC UDC Syllabus For Reasoning
Verbal Reasoning
Analogy
Series Completion
Verification of truth of the Statement
Situation Reaction Test
Direction Sense Test
Classification
Data Sufficiency
Alpha-Numeric Sequence Puzzle
Puzzle Test
Blood Relations
Coding-Decoding
Assertion and Reasoning
Arithmetical Reasoning
Operations of Mathematics
Venn Diagrams
Word Sequence
Missing Characters
Sequential Output training
Directions
Test on Alphabets
Eligibility Test
Non-Verbal Reasoning
Dot Situation
Identical figure groupings
Forming figures and analysis
Construction of Squares and Triangles
Series
Analytical Reasoning
Paper Folding
Paper Cutting
Cubes and Dice
Water Images
Mirror Images
Figure Matrix
Completion Incomplete Pattern
Spotting embedded figures
Classification
Rules Detection
ESIC UDC Syllabus For General Awareness
Finance Commissions
Taxes on Income and Expenditure
Financial and Railway Budget
Revenue of Central Government
Economic Planning
Inflation
National Income
Public Finance
Bills
Concept of Budget
Schemes and Policies implemented by Government
Indian Banking Industry History
Functions of Banks
Types of Banks
RBI and its Monetary Policy
Capital market in India
Money Market in India
Role of Banking.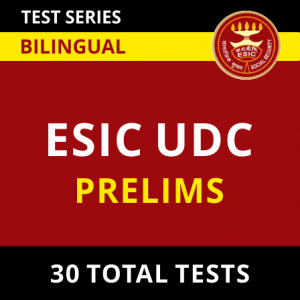 ESIC UDC Syllabus For General Intelligence
Number Ranking
Figurative Classification
Classification
Blood Relations
Arrangements
Arithmetical Reasoning
Mathematical Operations
Venn diagrams
Number Series
Figural Pattern
Cubes and Dice
Analogies
Non-Verbal Series
Coding-Decoding
Logical Venn Diagrams
Directions
Number, Ranking & Time Sequence
ESIC UDC Syllabus For Quantitative Aptitude
Simple Equations
Quadratic Equations
Indices and Surds
Mensuration
Percentages
Areas
Time and Distance
Problems on Trains
Odd Man Out
Numbers and Ages
Pipes and Cisterns
Time and Work Partnership
Ratio and Proportion
Simple Interest
Probability
Averages
Problems on L.C.M and H.C.F
Problems on Numbers
Compound Interest
Volumes Profit and Loss
Races and Games
Mixtures and Allegations
Boats and Streams
Permutations and Combinations
Simplification and Approximation
ESIC UDC Syllabus For English Language
Spellings/Detecting Mis-spelt words
Common Error
Active/Passive Voice of Verbs
Comprehension Passage
Cloze Passage
Fill in the Blanks
Shuffling of Sentence parts
Conversions
Sentence Rearrangement
Grammar
Shuffling of Sentences in a passage
Improvement of Sentences
Synonyms/Homonyms
Antonyms
Vocabulary
Idioms & Phrases
Any modification in the information will be updated once the official notification is released.
ESIC UDC Syllabus 2021: FAQs
Q. What is the criteria of selection for Upper Division Clerk Posts in ESIC?
Ans. The eligible candidates will be selected through Prelims, Mains and Computer Skill Test.
Q. Is there any negative marking for the wrong answer in ESIC UDC Exam 2021?
Ans. Yes, for each wrong answer one-fourth marks will be deducted.
Q. Which computer skills should a candidate know for ESIC UDC Exam?
Ans. The candidate should have knowledge of MS Word, MS PowerPoint, MS Excel
Q. Which sections are included in ESIC UDC Prelims And Mains Exam?
Ans. Questions will be asked from Reasoning, Quantitative Aptitude, English, General Awareness sections.