Delhi Police Constable Exam Analysis 2020: The Delhi Police Constable Exam has been scheduled from 27th November 2020 to 14th December 2020, in online mode. Today is the first day of exam and thousands of candidates have appeared for the examination. To help the candidates who are going to appear in the upcoming shifts regarding the difficulty level of the exam, questions asked, and the number of good attempts here is the brief Delhi Police Constable Exam Analysis 2020.
Highlights
Through Delhi Police Constable Recruitment 2020, a total of 5846 vacancies will be filled.
The first stage of examination has been started on 27th November 2020 in an online mode via an objective test.
Section-wise analysis has been detailed in the post
The candidates should go through the complete Delhi Police Analysis and try to score good marks in the Delhi Police Constable Cut off marks.
Delhi Police Constable Exam Pattern 2020
Before you go through the Delhi Police Analysis 2020, have a look at the Delhi Police Constable Exam Pattern 2020 tabulated below.
There are a total of 4 sections which include: General Awareness, Quantitative Aptitude, Numerical Ability, and Computer Fundamentals.
The exam is conducted for a total of 100 marks and it includes 100 questions,
The total time duration to complete the exam is 90 minutes.
Part
Subject
No. of
Questions
Max. Marks
Part A
General Knowledge/
Current Affairs
50
50
Part B
Reasoning
25
25
Part C
Numerical Ability
15
25
Part D
Computer Fundamentals, MS Excel,
MS Word, Communication, Internet
and Web Browsers etc
10
20
Total
100
100
Delhi Police Analysis 2020 27th November: Video Analysis
Interact with our expert faculty through this live video session conducted for discussing the questions asked in the exam today. The teachers directly connect with the candidates who had appeared in the exam and trying to provide you with a complete analysis for Shift 1 SSC Delhi Police Constable Exam 2020 and know what was the level of examination and what type of questions were asked in the exam.
Delhi Police Exam Analysis 2020: Good Attempts
Here is the table below that explains the analysis for 27th November 2020, 1st Shift, Delhi Police Constable 2020.
Part
Subject
Good Attempts
Difficulty Level
Part A
General Knowledge/ Current Affairs
37-42
Easy to Moderate
Part B
Reasoning
20-22
Easy
Part C
Numerical Ability
12-14
Easy to Moderate
Part D
Computer Fundamentals, MS Excel,
MS Word, Communication, Internet
and Web Browsers etc
5-6
Easy to Moderate
Overall 
74-84
Easy to Moderate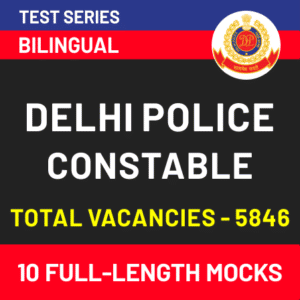 SSC Delhi Police Constable Section-wise Exam Analysis- 27th November, 1st Shift
Delhi Police Constable Exam Analysis 2020: Reasoning (Easy)
| | | |
| --- | --- | --- |
| Topic | Questions Asked | Difficulty level |
| Analogy | 1-2 | Easy to Moderate |
| Number and Word Series | 1-2 | Easy |
| Classification | 1-2 | Easy |
| Coding-Decoding | 1-2 | Easy to Moderate |
| Mirror Image | 1 | Easy |
| Embedded Figures | 2-3 | Easy |
| Figure Series | 1 | Easy to Moderate |
| Sitting Arrangement & Blood Relation | 1-2 | Easy |
| Missing Number | 1 | Easy to Moderate |
| Mathematical Operation | 1 | Easy to Moderate |
| Venn Diagram | 1-2 | Easy |
| Paper cutting & Folding | 2 | Easy to Moderate |
| Simple Interest | 1 | Easy |
Delhi Police Constable Exam Analysis 2020: Computer Fundamentals
| | | |
| --- | --- | --- |
| Topic | Questions Asked | Difficulty level |
| MS Excel (2007) | 5-6 | Moderate |
| Fundamental of MS Word | 1 | Easy |
| Communication | 2 | Easy to Moderate |
| Web browser | 1 | Easy |
| Total | 10 | Easy to Moderate |
Delhi Police Constable Exam Analysis 2020: Numerical Ability (Easy to Moderate)
| | | |
| --- | --- | --- |
| Topic | Questions Asked | Difficulty level |
| Time & Work | 1 | Easy to Moderate |
| Simple Interest | 2 | Easy to Moderate |
| Profit & Loss | 2 | Easy |
| Percentage | 2 | Easy to Moderate |
| Ratio & Proportion | 1 | Easy to Moderate |
| Average | 1 | Easy to Moderate |
| Time, Speed & Distance | 1 | Easy |
| Number System | 1 | Easy |
| Basic Mensuration Questions | 2 | Easy to Moderate |
| Mixture & Alligation | 1 | Easy |
| Total | 15 | Easy to Moderate |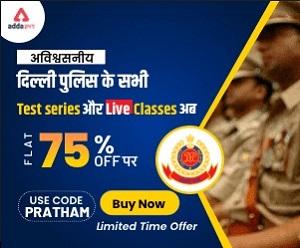 Delhi Police Constable Exam Analysis 2020: General Awareness & Current Affairs (Moderate)
Questions in these sections were asked from
Geography: 2 questions
Biology: 3-4 questions
Chemistry: 1 question
Polity: 2-3 questions
Static GK: 4-5 questions
Current Affairs (National- International): 10-12 questions
Some Questions Asked in SSC Delhi Police Constable Exam 2020- 27 Nov, 1st Shift
Who will host the FIFA World Cup in 2022? Qatar
Largest Natural Satellite- Ganymede
Civil Disobedience Movement launched- 1930
Speaker of Delhi Vidhan Sabha- Ram Niwas Goyal
The temperature of Water- 4-degree Celsius
Diamond and Graphite are allotropes of- Carbon
Which type of tissue is Blood?- Connective Tissue
Full form of MSP- Minimum Support Price
First Defence Minister of India- Sh. Baldev Singh
2nd Vice President of India- Dr. Sarvpalli Radha Krishnan
On which River, Nagarjun Sagar Dam is present?- Krishna River
Delhi CM in 1993- Madan Lal Khurana
Full form of SMPS- Switched Mode Power Supply
Which chemical is used to clean Gold?- Aqua Regia
Harrapan Civilisation situated on which river?- Indus River
National Science Day- 28th February
42nd Amendment
Life Span of RBC- 120 Days