Daily Important NewsDaily news will speed up the preparation for the Civil Services Examination and it also plays a crucial role to grasp the current affairs topic comprehensively. Here we have covered most of the topics related to various categories including National, International, Sports, Science and Technology, and so on.
1. Global Investor Roundtable
– The Virtual Global Investor Roundtable was chaired by Prime Minister Narendra Modi.
– While addressing the roundtable, he said India bravely fought the worldwide pandemic, the world saw India's national character and India's true strengths.
– The Prime Minister remarked that India has shown remarkable resilience during this pandemic, by fighting the virus and also ensuring economic stability.
–  He elaborated the holistic strategy for the development of the financial sector.
– Some of the major initiatives was listed by him for the development of the financial sector like comprehensive banking sector reforms, strengthening of financial markets, unified authority for the International Financial Services Centre, one among the foremost liberal FDI regimes, a benign tax regime for foreign capital, suitable policy regimes for investment vehicles like Infrastructure Investment Trust and Real Estate Investment Trust, Implementation of  Insolvency and Bankruptcy Code, Financial empowerment through Direct Benefit Transfer and fin-tech based payment systems like Ru-Pay cards and BHIM-UPI.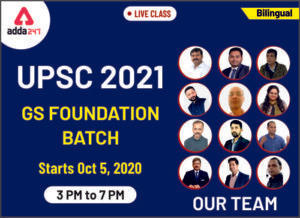 UPSC 2021 Online Coaching Classes | Bilingual GS Foundation Batch
2. President of Tanzania
– H.E. John Pombe Magufuli sworn-in as President of Tanzania.
– PM Narendra Modi also congratulate H.E. John Pombe Magufuli for being sworn-in as President of Tanzania. He also said that "I look forward to working with him to further strengthen the long-standing friendship between our countries."
3. 5th Joint Working Group on Coal
– The 5th Joint Working Group (JWG) was successfully hosted by India on Coal. It took place between India and Indonesia.
– From the Indian side, the JWG was co-chaired by Shri Vinod Kumar Tiwari, Additional Secretary, Ministry of Coal, Government of India and by Mr Jonson Pakpahan, Director for Mineral and Coal, Non-Tax State Revenue of Ministry of Energy and Mineral Resources, Republic of Indonesia, from the Indonesian side.
– Discussion was held on Coal Policy reforms, Coking Coal Exploration, Commercial Mining and Current Coal Business updates etc.
Daily Gist of 'The Hindu', 'PIB', 'Indian Express' and Other Newspapers: 5 November, 2020
4. Bio-decomposer technique
– According to Chief Minister Arvind Kejriwal the bio-decomposer technique of converting stubble into manure has shown success.
– This claim was supported on the initial results from a farm where the bio-decomposing solution, developed under the guidance of the PUSA Institute.
– Now, the government would now present this alternative in the Supreme Court owing to its effectiveness and cost.
– This solution also can be tried by farmers in Punjab and Haryana.
Daily Gist of 'The Hindu', 'PIB', 'Indian Express' and Other Newspapers: 3 November, 2020
5. Smog in Delhi
– In October 2020, Delhi's air pollution was higher as compared to last year's air pollution.
– Smog is a harmful mixture of fog, dust and air pollutants like nitrogen oxides, volatile organic compounds, etc. which combine with sunlight to make a dense layer of ground-level ozone.
– Smog formation is also closely linked with temperature, sunshine, and calm winds.
– Smog can form more quickly than otherwise, on a warmer day.
Daily Gist of 'The Hindu', 'PIB', 'Indian Express' and Other Newspapers: 2 November, 2020
6. Luhri hydropower project
– The funding has been approved by the Cabinet Committee of Rs 1810 cr for 210 Mega Watt Luhri Stage-I Hydro Power Project in Himachal Pradesh.
–  It will be constructed on river Satluj which is situated in Shimla and Kullu districts of Himachal Pradesh.
– As per Information and Broadcasting Minister Prakash Javadekar, the project is going to be commissioned within 62 months and it'll lead reduction of 6.1 lakh tonne of CO2 from the environment annually.
– Further, he said that the project is being implemented by Satluj Jal Vidyut Nigam Limited, SJVNL on Build-Own-Operate-Maintain basis with active support from the Centre and State Government.
– The project will provide employment to around 2000 persons and will contribute to the overall socio-economic development of the State.
Daily Gist of 'The Hindu', 'PIB', 'Indian Express' and Other Newspapers: 30 October, 2020
IAS Prelims Mock-Test 2020 – Set 49, 3 November
Adda247 Launching – Aarambh IAS On 5th November 2020 Only on UPSC/State PSC Adda247 Channel Click Here