Daily news will speed up the preparation for the Civil Services Examination and it also plays a crucial role to grasp the current affairs topic comprehensively. Here we have covered most of the topics related to various categories including National, International, Sports, Science and Technology, and so on.
1. HINDI, KASHMIRI AND DOGRI AS OFFICIAL LANGUAGES IN JAMMU AND KASHMIR
In addition to Urdu and English, the Government has approved a Bill to introduce Hindi, Kashmiri and Dogri as official languages in Jammu and Kashmir.
Minister of State in Prime Minister's Office Jitendra Singh said: "It is not only a fulfilment of a long-pending public demand of the region but also in keeping with the spirit of equality which was ushered after 5 August 2019." The state of Jammu and Kashmir was bifurcated on August 5, with Ladakh becoming a separate Union Territory.
Daily Gist of 'The Hindu', 'PIB', 'Indian Express' and Other Newspapers: 2 September, 2020
2. NATIONAL PROGRAMME FOR CIVIL SERVICES CAPACITY BUILDING (NPCSCB)
Government of India has approved the launching of a National Programme for Civil Services Capacity Building (NPCSCB) with the institutional framework namely; Prime Minister's Public Human Resources (HR) Council, Capacity Building Commission, Special Purpose Vehicle for owning and operating the digital assets and the technological platform for online training, and Coordination Unit headed by the Cabinet Secretary.
NPCSCB is designed to establish the foundations for capacity building for Civil Servants so that they keep good attitudes towards the Indian Culture and sensibilities and remain connected with their roots. The Programme will be delivered by setting up an Integrated Government Online Training-iGOTKarmayogiPlatform.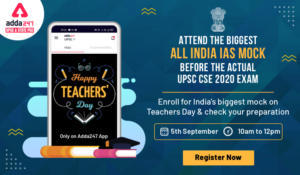 Register: Adda247 All India UPSC Free Prelims Mock On Teachers Day
3. MoU BETWEEN INDIA AND JAPAN
India has signed a Memorandum of Understanding (MoU) with Japan for improving quality and testing of Indian textiles and Clothing for the Japanese market. This MoU has been taken place between Textiles Committee, India and M/s Nissenken Quality Evaluation Centre, Japan.
According to the MoU, Nissenken Quality Evaluation Centre, in assigning Textile Committee as their cooperative Testing and Inspection service, has provided a platform to India for Textiles & Apparel products including technical textiles and any other products.
Daily Gist of 'The Hindu', 'PIB', 'Indian Express' and Other Newspapers: 1 September, 2020
4. MoU BETWEEN INDIA AND FINLAND
India has signed a Memorandum of Understanding (MoU) with Finland for cooperation in the field of geology and mineral resources. The MoU has been taken place between the Geological Survey of India and the Geological Survey of Finland (Geologiantutkimuskeskus).
The MoU provides a platform of cooperation in the field of geology, training, mineral prognostication and suitability analysis, 3/4D modeling, Seismic and other Geophysical surveys finalised with the intent of reinforcing and strengthening scientific links between the two Organisations.
5. SAKSHAM YOJANA
The Government of Haryana has launched an employment scheme called the Saksham Yojana. Under the scheme, the government has set a target to provide employment to two lakh youth in the State.
The government also focuses on other areas of opportunity under the scheme like; job opportunities in industrial units, and in medical facilities. Increasing the job opportunity in the field of medical facilities, Government has planned to establish a trauma centre at every 60 km to provide instant medical facilities to those injured in road accidents on national highways.
Under this scheme, Rs.9000 per month will be offered for working 100hours a month. It is mandatory to register online to start taking the benefits.
Daily Gist of 'The Hindu', 'PIB', 'Indian Express' and Other Newspapers: 31 August, 2020
6. GOVERNMENT BLOCKS 118 MOBILE APPS
Government of India has decided to block 118 mobile apps which are prejudicial to sovereignty and integrity of India. Because Government has received many complaints from various sources including several reports about the misuse of some mobile apps available on Android and iOS platforms for stealing and surreptitiously transmitting users' data in an unauthorized manner to servers which have locations outside India.
Doing this, Government has used its power under section 69A of the Information Technology Act. The Ministry of Electronics and Information This move will safeguard the interests of crores of Indian mobile and internet users. This decision is a targeted move to ensure safety, security and sovereignty of Indian cyberspace.
7. WATER HEROES CONTEST 2.0
Ministry of Jal Shakti has launched the 'Water Heroes: Share Your Stories' contest from September 1, 2020. The aim of the contest is to reach out to people on the important subject of water conservation and management. The participants who want to participate will have to post their success stories on water conservation through a specially made video of 1-5 minutes depicting the efforts and significant contributions to conserve and manage water resources along with a write-up of up to 300 words and some photographs/pictures. This series of Contest will end on 31st August 2021.
IAS Prelims Mock-Test 2020 – Set 8, 1 September
Daily Gist of 'The Hindu', 'PIB', 'Indian Express' and Other Newspapers: 29 August, 2020