Daily Important News will speed up the preparation for the Civil Services Examination and it also plays a crucial role to grasp the current affairs topic comprehensively. Here we have covered most of the topics related to various categories including National, International, Sports, Science and Technology, and so on.
 1. CII Partnership Summit
– Union Minister of Railways, Commerce & Industry, Consumer Affairs and Food & Public Distribution Piyush Goyal on 16 December addressed Ministerial Session at the CII Partnership Summit 2020 whose theme is 'PARTNERSHIPS FOR LIVES, LIVELIHOOD AND GROWTH'.
– H.E. Lyonpo Loknath Sharma, Minister of Economic Affairs, Bhutan, H.E. Uz. Fayyaz Ismail, Minister of Economic Development, Maldives, H E Andres Allamand, Minister of Foreign Affairs, Chile, H.E. Dmytro Senik, Deputy Foreign Minister, ,H.E.Caio Mario Paes de Andrade, Special Secretary (Vice Minister) for Debureaucratization, Management and Digital Governance, Ministry of Economy, Brazil took part in the session.
– Shri Goyal said that coming together of friendly nations will help all of them to explore new opportunities, support each other, build upon the friendship and bring benefit for the well-being of their citizens. Mentioning about the close and deep-rooted relations with the participating nations.
– India provides huge opportunity for investments, and procurement of goods and services. India is looking forward for working with friends and neighbours, and having a global footprint.
– As per Piyush Goyal, India is working to turn the Covid crisis into an opportunity, and is confident of reaching the target of $5 Tn economy by 2025, and $10 tn in another 7-10 years.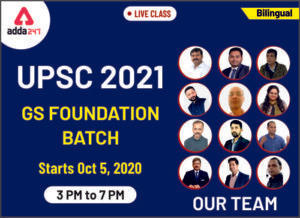 UPSC 2021 Online Coaching Classes | Bilingual GS Foundation Batch
2. Government of India and World Bank sign $400 million project
– The Government of India and the World Bank today signed a $400 million project to support India's efforts at providing social assistance to the poor and vulnerable households, severely impacted by the COVID-19 pandemic.
– This is the second operation in a programmatic series of two. The first operation of $750 million was approved in May 2020.
– The programme will strengthen the capability of state and national governments in India to provide coordinated and adequate social protection to the poor and vulnerable from the shocks triggered by the COVID-19 pandemic.
– This programme will help further expand and deepen the coverage of India's social protection systems by helping these vulnerable groups in urban and peri-urban areas across the country.
– The agreement was signed by Dr. Mohapatra on behalf of the Government of India and Ms Sumila Gulyani, Acting Country Director, India, on behalf of the World Bank.
– The programme was prepared in collaboration with the Asian Development Bank (ADB), Agence Française de Développement (AFD) and Kreditanstalt Fur Wiederaufbau (KfW).
– The $400 million credit is from the International Development Association (IDA) – the World Bank's concessionary lending arm.
Daily Gist of 'The Hindu', 'PIB', 'Indian Express' and Other Newspapers: 16 December, 2020
3. CEO, Prasar Bharati elected Vice President of ABU
– Prasar Bharati has achieved another global milestone in broadcasting today with the CEO, Shashi Shekhar Vempati being elected as the Vice President of Asia Pacific Broadcasting Union (ABU), one of the largest broadcasting associations in the world.
– Shri Vempati has been elected to the office of the Vice President, ABU for three years with immediate effect.
– It is remarkable to note that almost all of the Public Broadcasters of the member countries in the Asia Pacific region strongly supported the candidature of  India's Public Broadcaster which was forwarded by NHK Japan.
– The candidature of the nominee from China's NRTA was unsuccessful, failing to garner support from any of the members, paving the way for CEO Prasar Bharati India's election to the Vice Presidency of ABU.
About Asia Pacific Broadcasting Union
– The Asia Pacific Broadcasting Union was formed in 1964 as a professional association of broadcasting organisations with over 286 members in 57 countries and regions, reaching the potential population of about three billion people.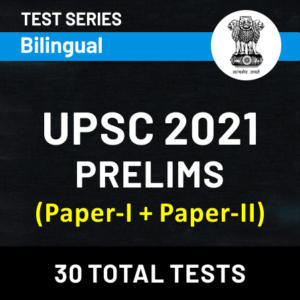 Aiming for UPSC CSE 2021? Get the best test series for sure selection: Click Here
4. National Family Health Survey-5 (NFHS-5)- Data related to Women
– The first-phase data of the National Family Health Survey-5 (NFHS-5) 2019-20 has been released recently by the Ministry of Health and Family Welfare. It provided data on several issues related to women in India.
– National Family Health Survey is a large-scale, multi-round survey which is conducted in a representative sample of households throughout India.
– The Phase-I provides data for 22 states/UTs and the fieldwork in the remaining 14 (Phase-II) States/UTs is under progress.
– The survey have been conducted under the stewardship of the Ministry of Health and Family Welfare, Government of India, with the International Institute for Population Sciences (IIPS) Mumbai, serving as the nodal agency.
– In the past half-a-decade, the Total Fertility Rate across most Indian states declined more so among urban women. This means that the population of India is stabilizing.
– Sikkim recorded the lowest TFR, with one woman bearing 1.1 children on average; Bihar recorded the highest TFR of three children per woman.
– TFRs were found to be 'below-replacement level (2.1)', in 19 out of the 22 surveyed states.
– TFR indicates the average number of children expected to be born to a woman during her reproductive span of 15-49 years.
– In 13 of the 22 States/UTs, more than half of the children and women are anaemic. It has also been observed that anaemia among pregnant women has increased in half of the States/UTs compared to NFHS-4.
– Female sterilization continues to dominate as the modern method of contraception in states like Andhra Pradesh (98%), Telangana (93%), Kerala (88%), Karnataka (84%), Bihar (78%) and Maharashtra (77%).
– Overall Contraceptive Prevalence Rate (CPR) has increased substantially in most States/UTs and it is the highest in HP and WB (74%).
– There has been an increase in child marriages in Tripura (40.1% from 33.1% in 2015-16), Manipur (16.3% from 13.7% in 2015-16) and Assam (31.8% from 30.8 % in 2015-16).
– States like West Bengal (41.6%) and Bihar (40.8%) still have high prevalence of child marriages.
– States such as Tripura, Manipur, Andhra Pradesh, Himachal Pradesh and Nagaland have also shown an increase in teenage pregnancies.
– Karnataka witnessed the largest increase in spousal violence, from 20.6% in NFHS 4 to 44.4% in NFHS-5.
Daily Gist of 'The Hindu', 'PIB', 'Indian Express' and Other Newspapers: 15 December, 2020
5. S-400 deal
– The United States has imposed sanctions (Under CAATSA) on Turkey over Ankara's acquisition of Russian S-400 air defence systems.
About S-400 air defence missile system
– The S-400 Triumf is a mobile, surface-to-air missile system (SAM) designed by Russia.
– It is the most dangerous operationally deployed modern long-range SAM (MLR SAM) in the world, considered much ahead of the US-developed Terminal High Altitude Area Defense system (THAAD).
– India's acquisition is crucial to counter attacks in a two-front war, including even high-end F-35 US fighter aircraft.
– Countering America's Adversaries through Sanctions Act (CAATSA)'s core objective is to counter Iran, Russia and North Korea through punitive measures.
Daily Gist of 'The Hindu', 'PIB', 'Indian Express' and Other Newspapers: 14 December, 2020
6. 12th GRIHA Summit
– The inaugural session of the 12th Green Rating for Integrated Habitat Assessment (GRIHA) Summit was organised virtually recently.
– The theme of 12th GRIHA Summit is "Rejuvenating Resilient Habits.
– Its objective is to serve as a platform to deliberate on innovative technologies and solutions which shall help in creating robust mechanisms for developing sustainable and resilient solutions for the benefit of the entire community.
– During the event, the Vice President of India launched the SHASHWAT magazine and the book '30 Stories Beyond Buildings'
– About Green Rating for Integrated Habitat Assessment (GRIHA)
– It is the national rating system of India for any completed building construction.
– GRIHA is recognised as India's own green building rating system in India's Intended Nationally Determined Contributions (INDC) submitted to the United Nations Framework Convention on Climate Change (UNFCCC).
– It was conceived by The Energy and Resources Institute (TERI) and developed jointly with the Ministry of New and Renewable Energy.
Daily Gist of 'The Hindu', 'PIB', 'Indian Express' and Other Newspapers: 12 December, 2020
7. Himalayan Serow
– For the first time in the Himalayan cold desert region, a Himalayan Serow has been sighted in Spiti Himachal Pradesh.
– It resembles like a cross between a goat, a donkey, a cow, and a pig.
– It's a medium-sized mammal with a large head, thick neck, short limbs, long, mule-like ears, and a coat of dark hair.
– There are several species of serows, and all of them are found in Asia.
– The Himalayan serow, or Capricornis sumatraensis thar, is restricted to the Himalayan region.
– Taxonomically, it is a subspecies of the mainland serow (Capricornis sumatraensis).
IAS Prelims Mock-Test 2020 – Set 74, 16 December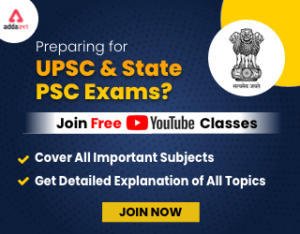 Join UPSC & State PSC Channel ? Click Here