COVID-19 Curfew E-Pass Form: The country has been under 21-day lockdown from midnight of 24th March until 14th April 2020. The lockdown has further been extended till 3rd May. Due to this many essential services have come to a halt. During this period of the lockdown, the people have to stay indoor to avoid any kind of social interaction. This measure has been adopted to avoid mass gathering as this would put them at risk of getting infected with Corona virus.
To ease the situation of the common citizens, all the states have initiated the availability of COVID-19 Curfew E-Pass where people who are in dire need can apply and get their work done. The COVID-19 E-Pass can be applied from the official portal of their respective states.
COVID-19 E-Pass
With the country being under complete lock down, even getting the essential services has become a problematic issue. To make matters worse, the no. of cases is rising exponentially thus, making the risk of getting infected notch up. Therefore, the Govt. has started the COVID-19 E-Pass Service Facility to bring some relief to the people. The Corona Virus E- Pass can be shown to the policemen and people can get their work done easily. The COVID-19 E- Pass or Movement Pass can be availed ONLINE through the concerned authority of the state.
Lockdown Extended Till 3rd May
COVID 19 E- Pass Online
The COVID-19 Pass or COVID-19 Curfew Pass will be issued online to those people only who have essential services or in case of some personal emergency. The List of essential services is given below.
Chemist/Pharmacist
Vehicle (Truck, Cars, Bike etc. for Emergency)
Police
Fire Brigade
Electricity
Water and Food Supply
Take away home delivery from restaurants
Law & Order and Magisterial Duties
Govt Health Worker (Govt. Doctors/ Health Official)
Treasury
Urban Local Bodies & Rural Development
Public Bank Employee
Other Govt. Employees
Prisons staff
Fair price shop (ration dealers)
Electricity staff/water department
Municipal services
Retailers
Essential Supply Transportation
Essential Supply Distribution
Essential Items Manufacturing
Private Health Practitioner
Private Bank Employee
Postal Services
Media
Bank / ATM Visit
Patient
Death Case
Chemist and pharmacist
Petrol pump
Private Telecom / Internet Services
Documents Needed For COVID-19 E-Pass
The following documents will be needed by the people when they are applying for the COVID-19 Curfew E pass online through their respective states.
Recent passport size photograph
Photo ID Proof such as PAN Card, Voter ID Card, Aadhar Card, etc.
Organization recommendation proof etc.
Vehicle Registration Number (RC Book)
And other details
Curfew E-Pass Sample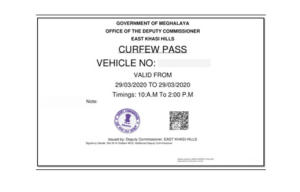 Exams Postponed Due To COVID 19
How To Apply For COVID-19 E-Pass Online?
To apply for COVID-19 E-pass the following steps are required.
Select your state from the list.
COVID-19 E-Pass generation page will open for your state.
Click on the option that is being asked for.
Now Click the "Register Here" button.
Fill in the complete details and submit the form.
Two SMS will be sent on the registered mobile number.
The 1st SMS will be received at the time of receipt of the application.
The 2nd SMS at the time of approval.
The individuals have to submit the application with all the correct details and required documents.
Your registration is complete and the application is made.
If your application is valid, your COVID 19 Online Pass will be generated.
COVID 19 Statewise Online E-Pass: Apply Online Link
State
E-Pass Link
Gurugram
Apply Here
Delhi
Apply Here
Haryana
 Apply Here
Uttar Pradesh
Apply Online HereLink 2 | Link 3 | Link 4
Jharkhand
Apply Here
Madhya Pradesh
Apply Here
Uttrakhand
Apply Here

For Dehradun- Apply Here
Check Status of Dehradun Pass

Assam
Apply Here
Kolkata
 Apply Here
Chandigarh
Apply Here
Goa
 Apply Here
Punjab
 Apply Here
Himachal Pradesh
Apply Here
Tamil Nadu
Apply  Online Here
For Tiruvannamalai-  Apply HereCheck Notice
Maharashtra
 Apply Here
Rajasthan
Apply Online
Kerala
 Apply Here
 Bihar
 Apply Online

For Katihar Apply

Karnataka
 For BengaluruKSP Clear Pass Individual – Apply Here

KSP Clear Pass Organisation – Apply Here

Gujarat
Apply Here
West Bengal
 Will be updated
Andhra Pradesh
Apply Here
Telangana
In Emergency Condition Allowed without PassFor individual one's – Updating Soon
Chhattisgarh
Apply Online Here
Odisha
Apply Here
How to get E-Pass in Delhi?
The Delhi government has issued a WhatsApp number for every district. One can also call 1031 in order to obtain the ePass. People can also apply for E-Pass in Delhi through website- https://epass.jantasamvad.org/epass/relief/english/
The website also allows options for people to seek help with food, rations, Rs 5000 compensation for daily wage workers and pension amounts.
Numbers for Delhi Curfew e-Pass:
| | |
| --- | --- |
| District Zone | WhatsApp Number |
| East District | 8447200084, 8375878007 |
| North East District | 9540895489, 8860425666 |
| Central District | 7428336279, 742821.711 |
| North District | 8595298706, 8595354861 |
| New Delhi District | 9540675392, 9873743727 |
| Shahdara District | 8595272697, 8595274068 |
| South East District | 8595246396, 8595258871 |
| West District | 9414320064, 8595252581 |
| South District | 9599649266, 9643150027 |
| South West District | 9971518387, 9971526953 |
| North West District | 8585559117, 8595543375 |
COVID-19 Curfew Pass: FAQ's
Q. How can I apply for COVID 19 E pass?
Ans: The COVID 19 E pass can be obtained by visiting the link given above. Apply for the state you want to.
Q. Does everyone needs to have the Movement Pass?
Ans: The common citizen definitely need to have one. Apart from that there are exceptions for policemen, Doctors.
Q. What documents are needed to apply for Movement Pass?
Ans: You will need a scanned copy of valid ID proof, photograph, signature (if applicable).
Q. How can I check my application status?
Ans: Visit the state link from where you have applied for. Login with the credentials. Your Movement pass status will be shown on the screen.