DFCCIL CIVIL ENGINEERING SYLLABUS FOR EXECUTIVE AND MANAGER POSTS.
DFCCIL Syllabus 2021: DFCCIL (Dedicated Freight Corridor Corporation of India Limited) has put forward the notification to recruit engineers and diploma holders in various disciplines for the posts of Junior Manager, Executive and Junior Executive. Interested and eligible candidates can apply on or before 23rd July 2021. According to official notification there are 1074 vacancies in total.
This article is specifically for students applying from civil engineering discipline for different posts. Here we are discussing the detailed DFCCIL syllabus for civil engineering students to target DFCCIL recruitment 2021.
Preparing for DFCCIL Exams 2021, Click here to enroll for Live Classes, Test Series & Ebooks
DFCCIL RECRUITMENT 2021: SELECTION PROCESS
Computer Based Test (CBT)
Computer-Based Aptitude Test (CBAT)
Document Verification
Interview
Medical Test
DFCCIL SYLLABUS FOR CIVIL 2021: CBT EXAM PATTERN
The Computer Based Test (ON-LINE MODE) will be conducted in two/three sessions on a single/multiple day(s) of 2 hours duration.
The question paper for Computer based Test will be Objective Multiple Choice Type having 120 questions, indicative Syllabus for all such posts is in Annexure – III.
The standard of questions for the online examination will be generally in conformity with the educational standards prescribed for the posts.
The Question Paper will be set in English & Hindi only. In case of any difference/discrepancy/dispute in the questions between English and Hindi, the content of English version shall prevail.
There shall be negative marking in Computer Based Test and marks shall be deducted for each wrong answer a ¼ (0.25) mark.
Qualifying marks in written test/CBT is prescribed as 40% for UR, 30% for SC/OBC-NCL/EWS and 25% for ST
Computer Based Test if required, can be of two Stages as per the discretion of DFCCIL.
In case of tie of marks obtained by more than one Candidates, the resolution will be done in following order:
The candidate with earlier/older Date of birth, will be placed higher i.e. the candidate in age seniority will be placed higher.
In case of tie as mentioned as above, the candidate with higher percentage of pass marks in the highest essential qualification as indicated in the eligibility criteria will be placed higher.
DFCCIL SYLLABUS FOR CIVIL ENGINEERING 2021:
DFCCIL syllabus 2021 for civil engineering will give you clear idea about the topics which are to be asked in CBT. This will help you to do efficient scheduling of the topics to be studied. Once you're able to make a good schedule, you'll be at an upper edge in the competition. Apart from this adda247 team is here to help with all the exam related help.
CLICK HERE and share your details with us to get free study material.
Exam Pattern for CBT: for Junior Manager and Executive.
| | |
| --- | --- |
| subject | No. of questions |
| General Knowledge, General Aptitude/Reasoning, etc | 24 |
| Civil Engineering | 96 |
| Total | 120 |
Total time allotted for CBT exam is 2hrs.
SYLLABUS FOR JUNIOR MANAGER AND EXECUTIVE POSTS:-
Syllabus for junior manager for civil engineering
Engineering and Solid Mechanics
Structural Analysis
Construction materials and management
Concrete Structures
Steel Structures
Soil Mechanics
Foundation Engineering
 Municipal Solid Waste
Transportation infrastructure
 Highway Pavement
Traffic Engineering
Surveying
Syllabus for Executive for civil engineering
preparing for DFCCIL 2021 , Adda247 team's here to help you checkout our courses CLICK HERE.
Surveying
Strength of material
Structural Design & Drawing
 Buildings & Construction Material
Soil mechanics & Foundation Engineering
 Concrete Technology
 Reinforced & Prestressed concrete
 Hydraulics
 Hydrology & Hydraulics Structures
 Public Health Engineering & Water Supply
Railway Engineering & Railway Track
Qualifying marks in CBT is 40% for UR, 30% for SC/OBC-NCL/EWS and 25% for ST.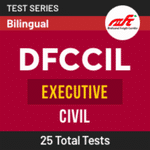 Related Links